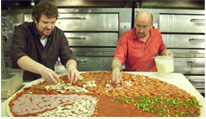 The Rules are Simple - Choose your size of Pizza and the number of people doing the challenge. You and your team have 30 minutes, For the standard challenge, if you and your team finish the whole pizza it's FREE PLUS you recieve a Randy's "I Can't Believe I Ate the Whole Thing" T-Shirt. If you fail to eat the whole thing you pay for the pizza, and can buy a "I Can't Believe I Didn't Eat the Whole Thing" T-Shirt. For all Sizes we do have options to win $500 or $1000!! Do you think you can do it?
Standard
Challenge
$500
Challenge
$1000
Challenge

The 30" Challenge

Equal to 4.5 Large Pizzas

4 People
30 Minutes
2 People
30 Minutes
1 Person
30 Minutes

The 48" Challenge

Equal to 11.75 Large Pizzas

9 People
30 Minutes
5 People
30 Minutes
3 People
30 Minutes
Earn Free Pizza!
Save Previous Orders
Members Only Offers!
it's FREE and EASY
OR
Earn Rewards with your Facebook Account
180

FREE LARGE PIZZA




120

FREE Large Italian Cheese Sticks




100

FREE Med Italian Cheese Sticks



Signup Bonus: 20 Points!